POTOMAC FALLS, Virginia (CNN) -- Parents of children with autism often say it's like being on a roller coaster 24 hours a day. And the ticket for the ride is jaw-droppingly expensive.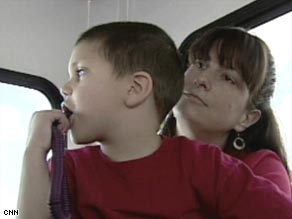 The monthly cost of Ethan Nunez's autism therapies is more than his family's income, says his mom, Carol.
A family's lifetime costs for caring for a child with autism can reach as high as $5 million, according to the Autism Society of America. Each month, parents report they pay thousands of dollars for treatment and therapy. And in most cases, insurance, even good insurance, won't cover all of the fees.
Many families are triple-mortgaging their homes, taking second and third jobs, even living with other family members, just so they can provide the care their children so desperately need. Some even have to choose between their child's development and keeping their homes.
For Carol and Rick Nunez of Potomac Falls, Virginia, the stack of bills piled up on the dining room table is a brutal reminder of their reality. The Nunezes, parents of two boys, were introduced to autism when their younger son, Ethan, was found to have the condition two years ago.